St Benedict's Priory, Cobh, Co. Cork, Ireland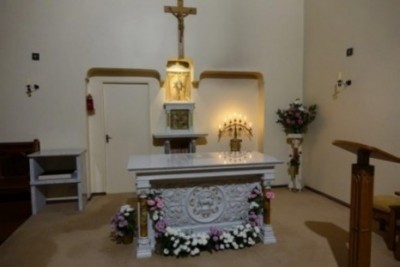 ST BENEDICT'S PRIORY was founded at the town of Royston in Hertfordshire in 1916. The Priory transferred to Wadhurst, Sussex in 1964. In response to the invitation of the Bishop of Cloyne, Bishop John Magee in 1993, the Priory moved to Cobh to provide a Benedictine, contemplative presence in the Diocese.

Help Renovate St Benedict's Priory

SERVICE TIMES

St Benedict's Priory, The Mount, Cobh, Co. Cork, Ireland
Telephone: 021 4811 354

HOLY MASS 8.30 am (Sun); 9.00 am (Weekdays)
Nocturns 5.30 am
Lauds 7.10 am
Terce 8.50 am
Sext 12.40 pm
None 3.40 pm
Vespers 5.00 pm
Compline 8.00 pm

If you would like to get in touch with St Benedict's Priory, please use this form:
Last Saturday of every month: Day of Recollection with Servant of God, Mother Marie Adèle Garnier, Foundress of the Adorers of the Sacred Heart of Jesus OSB. Begins at 9am with Holy Mass finishing with tea at 3.30. Lunch provided. To book your place or arrange to stay in our retreat house at anytime please contact Mother Prioress at 021 4811 354 or use the above form.