Benedictine Monastery, Largs, Scotland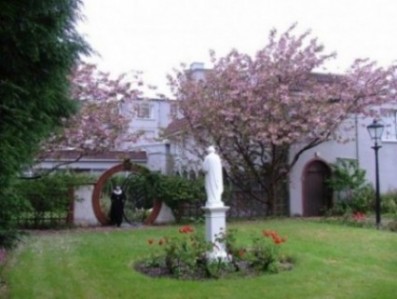 Originally at Dumfries, Scotland BENEDICTINE MONASTERY owed its beginnings to the initiative of Marcia, Lady Herries. She built the Monastery at Dumfries and invited Benedictine Nuns from Arras, France to come to introduce Perpetual Adoration of the Blessed Sacrament in reparation for the dissolution of so many Monasteries in the Border Countries during the sixteenth century. In 1988 the Monastery moved to Largs on the west coast of Scotland. By Decree of the Holy See in 1992 the community was amalgamated with the Tyburn Nuns.
The monastery has retreat facilities for individuals and groups. It also has a Christian Heritage Museum which is an exhibit of how Christianity and Monasticism came to the British Isles. There is also a tea room where refreshments are served to individuals and groups and there is also a shop where religious books, articles, sacramentals and handmade cards, crafts, various chaplets and rosary beads made by the sisters are sold.
Donate to Benedictine Monastery, Largs

All Night Eucharistic Adoration for Women
SERVICE TIMES
Benedictine Monastery, 5 Mackerston Place, Largs, Scotland, KA30 8BY
Telephone: 01475 687 320
HOLY MASS 9.00 am (Monday-Thursday); 12.00 noon (Friday, Saturday, Sunday & Solemnities)
Nocturns 5.30 am (Monday-Friday); 6.00 am (Saturday & Sunday)
Lauds 7.00 am (Monday-Friday); 8.00 am (Saturday & Sunday)
Terce 8.50 am (integrated with 9.00 am Mass; 9.15 am when Mass is at 12.00 noon)
Sext 12.40 pm (when Mass is 9.00 am; 11.50 am integrated with 12.00 noon Mass)
None 3.50 pm
Vespers 5.00 pm
Compline 8.05 pm

Study Day on the Life and Spirituality of our Mother Foundress - last Saturday of every month. For more information and bookings please contact Rev. Mother Prioress on telephone 01475 687 320 or email using the form below.

All-Night Adoration for the Lay Faithful.
If you would like to get in touch with Benedictine Monastery, Largs please use this form: