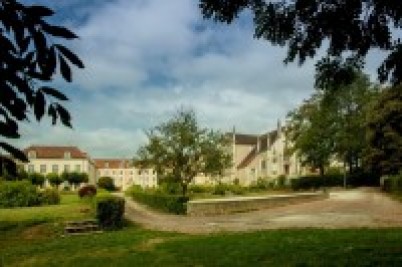 Please, can you help us?
At the beginning of December 2022, it was discovered that part of our roof above the linen room and kitchen had started to collapse due to poor roof -infrastructure which was done decades ago, before we purchased this Monastery. From this poor construction there were many leaks and as a result the roof trusses have rotted.

It was by God's providence that our neighbour saw this dangerous situation of the roof just in time, as some of our Sisters were working directly under this area of the damaged roof. On inspection the roof looked like a soup bowl and ready to collapse into the Linen room and kitchen! God was certainly protecting us!

In this emergency a builder was contacted within hours large metal support beams were set into place to reinforce the collapsing roof. The small Community of St Loup-sur-Aujon now have to raise at least €34,000 to repair the roof. As you can understand their difficulty at this time they would appreciate any help.

The roof will need to be repaired as soon as possible and so far there has been no snow, which is a blessing ! Hopefully it will remain this way until the roof can be repaired.
Donations to help us in our Eucharistic mission are gratefully received. Please enter the amount you wish to give in either EUR, GBP or USD below, press 'Make payment' and you will be taken through to our secure server hosted by Stripe. Your details will be taken by Stripe's online form. Thank you. May God bless you.